Walk In Tub Prices in Bay Village, Ohio
Need Prices For a Walk-In Tub in Bay Village, Ohio? So how much does a Bay Village Walk-In-Tub Cost? This is a quick and easy question to answer once a trained Independent Home Walk-In Tub specialist is called to assess and measure your bathroom space. In-home estimates are free. There is no obligation to make a decision that same day, your Walk-In Tub price will be valid for 30 days from the date of the inspection. Independent Home Products, LLC will provide you with a quality walk-in tub and offer you affordable pricing to meet your specific needs.
---
Simply Call
---
Walk-In Tub Installation Benefits
Walk-in tub installation is a more cost-effective option than a full bathroom remodel. When it comes to remodeling projects, there is always the possibility of unforeseen circumstances that increase the overall cost of the project. Independent Home Products, LLC has put protective measures in place to give our customers peace of mind when it comes to our services. Independent Home Products, LLC offers a 1-year price freeze which includes all electrical and plumbing to your existing lines and ensures that you'll never pay more than your written quote. Call Independent Home Products, LLC (216) 239-1106 today for a free in-home consultation and quote for a walk-in bath tub in your Bay Village home. We look forward to helping you get an accurate and affordable price for your Bay Village Walk-In Tub.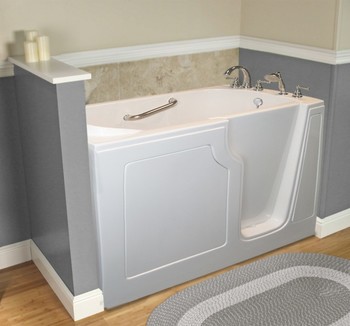 Some Things to Keep in Mind When Getting Quotes Are:
Does the company have a good reputation and reviews? How long has the company been in business?

How experienced are the technicians? How many walk-in tubs have they installed in their careers? Do the technicians specialize in walk-in tubs or are they general contractors who do a variety of work?

Can they provide you with any photos of their completed projects?

Is the product of good quality? What is the manufacturing process?

Is any demolition and removal of debris necessary for this project?

What features do you want your walk-in tub to have?

Is there a warranty available? If so, what are the terms of the warranty? Does it cover both the product and labor?
Quick Tips for Walk-In Tub Pricing
As you do your research on walk-in tub prices, there are some additional things to keep in mind.
Will the new walk-in tub fit into the existing space or will new walls need to be built? In some cases, new walls will need to be built and can be an additional cost in some cases.
Most walk-in tubs require a 50-gallon hot water heater because walk-in tubs are typically about twice the depth of a normal tub. Our specialist from Independent Home Products, LLC will discuss this during your written price quote, .
In order to avoid confusion once the project begins, make sure that you are aware of everything that your price quote covers.
---
Call for FREE Walk In Tub Prices Quote
Dial Area Code first please.
---
WHAT CUSTOMERS ARE SAYING:
5★★★★★ - "My son is an amputee. So the Independent Home walk-in tub made it easier for him to be able to be more independent. He's able to manipulate it with his feet because that's how he uses that. It's good and we're pleased. But the door and the caulking around the tub need to be done. The piece on the door that locks it fell off. The door still closes but it's not as tight. Then, the caulking around the tub is not all there. Then the counter that they put up there that connects the tub needs to be done as well. Other than that, we're happy with the walk-in tub.
The installation was good and I was really pleased with it. I thought it was gonna take two days based on what the representative who came out to the house to write everything up was telling me. The installer started on a Tuesday and he worked till Friday but he was doing everything by himself. It took a little longer than I thought because the guy had to take out the wall and replace it and then there were things that had to be gotten from Home Depot. It was not an easy thing but he was great. So I did not mind it."

Priscilla, Walk In Tubs in Shaker Heights, OH

2020-10-26

5★★★★★ - "The representative I worked with at Independent Home was very informative and very detailed in explaining everything. The installation guy was also very professional. He was very good at what he did, and he's done it several times. And he was like clockwork. He did it in one day. Installation was great, and I especially liked the attachments, the faucets, and everything else. They're top-notch. They have a very good quality tub."

Stanley, Walk In Bathtub Installation in Hudson, OH

2020-10-21

5★★★★★ - "We purchased the Independent Home walk in tub last year for our mom. She still talks about how much she loves it everytime we speak. Glad to see her happy."

Lester in Cleveland OH

2015-04-17

5★★★★★ - "The quality features and lifetime warranty made the decision to purchase a walk in tub from Indpendent Home, an easy one."

Martin in Lorain, OH

2015-04-17

5★★★★★ - "This company is very organized. I was thrilled with the installation and all the support I received throughout the entire process. My walk in tub is just what I needed. Thanks Independent Home."

Ralph in Akron, OH

2015-04-17
---
Call for FREE Walk In Tub Prices Quote
Dial Area Code first please.
---